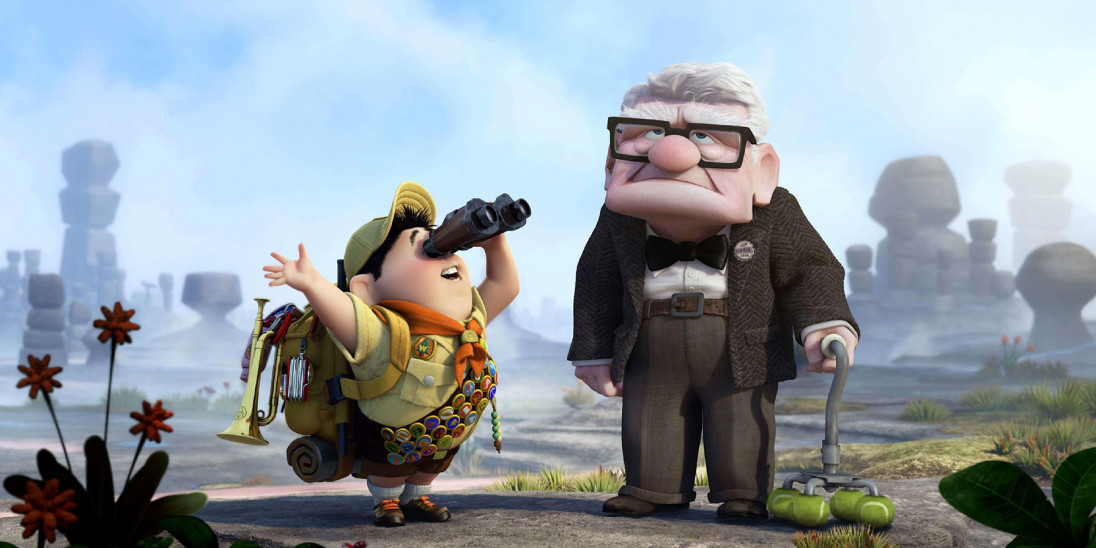 After two critical and commercial successes with Ratatouille (2007) and WALL-E (2008), Pixar was on a roll that was only going to continue for the next couple of years. The second Pixar feature to be directed by Pete Docter (his first was Monsters, Inc.), Up was arguably the most emotionally resonant animation the studio had produced thus far, a story that concerns the life of a married couple who never got the chance to live out their biggest dreams.
The married life of Carl Fredrickson (Ed Asner) and his wife Ellie is really the heart of the story and is what drives it forward. Carl meets Ellie when they are children, and they both idolise Charles F. Muntz (Christopher Plummer), a famous explorer. Ellie shows Carl her adventure book that she plans to fill up one day, but her ultimate dream is to have a house that overlooks Paradise Falls. Their common goal of travelling the world sparks a romantic connection between them and, in one of the most beautiful and heartbreaking montages ever committed to celluloid, we witness the big picture of Carl and Ellie's extremely happy life together until they reach old age and Ellie passes away.
Ellie's death changes Carl's perspective on life massively. He is now a bitter, grumpy old man who rarely leaves the confines of his own home, probably because of all of the joyous memories it contains. He's rude to construction workers who are replacing homes with skyscrapers, and he knowingly misleads a "Wilderness Explorer" named Russell (Jordan Nagai), a young boy who is trying to retrieve his final badge for assisting the elderly. However, when Carl attacks one of the construction workers for damaging the mailbox he and Ellie painted together, he is deemed as a menace to society and is ordered to move to a retirement home.
As all hope is now lost, Carl decides he has nothing to lose and attaches thousands of balloons to his house, causing it to fly away. He has now set off on his journey to land his and Ellie's house by Paradise Falls, something Ellie always dreamed of. That does not mean that Carl is alone in this venture, however. Russell was stood on his porch when the house took off, accidentally roping himself in on this journey. The duo also meet a couple of colourful characters; a "Snipe" whom Russell names Kevin (although he soon discovers that Kevin is a girl) and a dog named Dug (Bob Peterson), a Golden Retriever that can communicate with humans through a technological device in his collar. Carl is naturally frustrated by all of this havoc, but he accepts the situation he has now found himself in and sets off on this journey with his new companions.
Up doesn't work in a logical sense and the plot does seem rather silly if you just read it, but trust me when I say that it works exceptionally well when it comes to its emotional impact. Every single person who has ever seen the film cites the first 10 minutes as the greatest part of the entire movie and they're right. Without a single line of dialogue, we witness the life of a married couple who were deeply in love, and no dialogue is needed for you to understand what is going on. The use of visuals and music alone is enough to convey every single detail and emotion. Like any married couple, Carl and Ellie go through a series of ups and downs. They decorate their house together and share lots of laughs, but also have to suffer the sorrow of Ellie suffering a miscarriage and the realisation that they can never have children. After this heartbreak, they go about achieving their initial dream of going to Paradise Falls by saving up but, again, life gets in the way and financial obligations stack up. Carl does finally get tickets to go to their dream place, but as he is about to surprise Ellie with this gift, she collapses and later dies in hospital. Up makes you cry with the very notion of having such a likeable character die so suddenly, but it also goes the extra mile by showing you that they didn't achieve everything they wanted to together.
It's one of the most perfect sequences of all time. The music is initially quite fast, cheerful and upbeat during all of the couple's happiest times, but then that same music is used as a counterpoint when it is slowed down during the most devastating moments. It's a work of artistic genius by those who worked on the film and they don't make a single misstep; every single moment of the montage blends together flawlessly. It only gets better (and more tear-jerking) every time I watch it.
I could really just write a review of how brilliant those first ten minutes are, but that would be doing a disservice to the rest of the film, which is also wonderful. Some say that the first ten minutes completely overshadow the rest of Up and, while the first ten minutes are undeniably the best part of the film, it is still a charming, endearing and, dare I say, uplifting experience from beginning to end. Carl, despite being miserable for a large portion of the film, is still so loveable because we have witnessed the beauty of his poignant love story. Everyone who has experienced the loss of someone they loved will understand Carl's new worldview; grief is one of the most difficult things to overcome and, even after the passing of his wife, Carl's face still lights up whenever he is reminded of his beloved. It's tragic that a man with so much love in his heart has now been beaten down by the weight of the world.
However, this adventure that Carl goes on gives him a new lease of life, although not everything goes entirely to plan. This film would've really fallen apart if Carl's sidekicks were unlikeable or annoying, but they all fit into the picture wonderfully. Russell, for example, could've been this irritating liability who constantly gets in the way of Carl's quest and, while he does tend to get in his way sometimes, it comes from a place of love and care. In that sense, Carl has more in common with Russell than he initially thought. Russell, being the wilderness enthusiast that he is, wants to look after their new animal friends, especially Kevin, who is an endangered bird. Also, Russell is incredibly funny and, most importantly, forms a genuine friendship with Carl that never feels forced. Kevin, meanwhile, cannot speak, but his actions say so much about his fun personality, and Dug is a very affectionate dog who wants a master and to be accepted by the other dogs in his pack, who are much more intimidating than he is.
Due to how strong and emotionally powerful the opening of Up is, the rest of the film functions very well because Ellie provides the emotional anchor the story needs throughout all of the crazy antics that occur. It can be amusing, but it's the dramatic moments that elevate this material. What's also admirable about Up is that Carl eventually learns from the wise words of Ellie that, sometimes, life does get in the way of your dreams, but that doesn't stop you from having different adventures. Carl discovers that Ellie deeply appreciated every moment they shared together and she saw their life as one giant adventure. It's another thing that Pixar, as a studio, does so perfectly; telling us that things don't always work out the way we want them to, but that does not mean that we have failed in life or that a new path can't lead us to happiness. People underestimate animation and see it as just entertainment for children, but the ironic thing is that Pixar often produces films that are more adult and sincere than many live-action movies nowadays.
If there is a flaw to be acknowledged in Up, it's that there is a twist villain in here that is very predictable. Even as a child, I worked out who the antagonist of this story would be rather quickly and it does create a few dull moments when you can already guess what that character's intentions are. The villain works fine in the overall story and the voice acting adds a lot of menace, but the character needed to be more interesting if the film insisted on focusing on them for a significant chunk of the story. It is a bit of a shame that a rather generic character exists in a story that is so full of originality.
Despite its minor setback, Up is still a masterful piece of work and it continued Pixar's streak of terrific films. It's funny, it's romantic, it's bright, it's got unforgettable characters, it's suspenseful, it's emotional; it just has virtually everything you could want from a family film. Life doesn't always turn out the way we want it to but, you know what? I think we're all going to be okay.
★★★★½
Rating system out of 5 stars