2017 is now drawing to a close, and it's definitely gone by so quickly. I got my Cineworld Unlimited card for Christmas in 2016, a very thoughtful gift from my parents as they know how much I love films. This card has provided me with some of the greatest moments I've experienced this year, as I've managed to see more films than I ever have before. I told myself in January that I would make a personal record for the number of films I see in the space of a year, and I achieved just that. Overall, I have seen 258 films this year (not counting my repeated viewings of certain films), and I viewed 48 of those at my local cinema. Although there were a few pictures that I was not particularly impressed with, 2017 really has been a great year for film and I'm so thankful that I got to see such a wide variety of them.
Looking back got me thinking about some of my favourite experiences I had at the cinema this year, and I would like to share them with you. I can also look back at this post a few year's down the line and be reminded of these special moments in time.
Keep in mind that not all of these films are necessarily my absolute favourites of the year (although most of them are), but they are ones that left an impression, ones that challenged me, moved me or simply just entertained me.
La La Land
Obviously, this would not even be my list if I didn't mention this film. The Unlimited Screening for it was at 9pm on a Sunday, the night before one of my mock exams, so I was intending to have an early night. But my anticipation to see it was overwhelming me at this point, and I simply couldn't turn down the opportunity to go. Not only was it the best experience I had at the cinema this year, it was one of the best experiences I've had at the cinema for the past few years. I try not to get my expectations too high before I view a film, as I'm normally left slightly disappointed. But this was everything I wanted it to be and more. It reminded me of what I miss most from modern-day films; quiet moments and visual storytelling. That's not to say that I don't enjoy the abundant amount of loud, action-packed extravaganzas that cinemas are flooded with nowadays, but this was such a breath of fresh air and reminded me that film is a beautiful visual medium. The songs are simple yet gorgeous, the chemistry between Emma Stone and Ryan Gosling is irresistible, and the final 10 minutes made me break down into a mixture of happy and sad tears. There's something about the way the music and the visuals came together in that Epilogue sequence that was so perfect; I couldn't think of a better ending to such a lovely story. I remember one of my friends laughing at me when we were leaving the screening when she noticed that I was still crying, but I couldn't help it because I was so blown away by the entire experience. People are probably sick of me going on about this film, but seeing La La Land on the big screen was such a euphoric experience that I had to go back and see it a couple of more times.
Get Out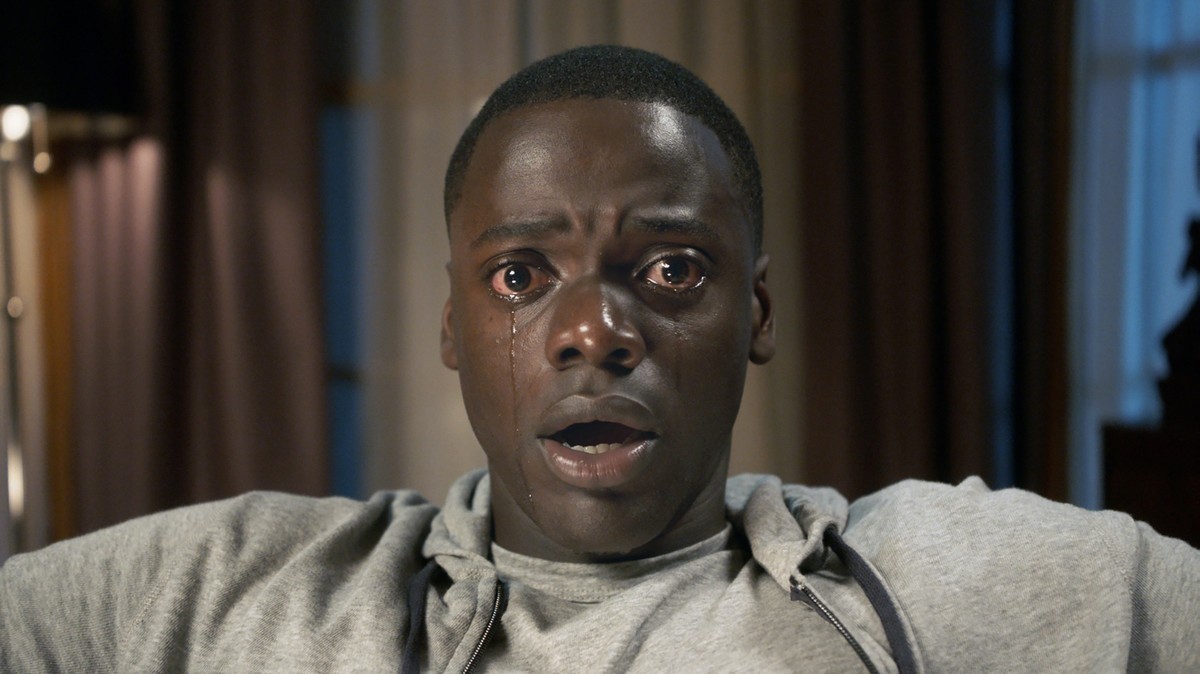 What a unique experience this was. I saw this with one of my best friends and I knew very little about it, apart from the fact that it was receiving rave reviews from critics. This naturally peaked my curiosity, but I have, for the most part, been unimpressed with recent horror films, so I was a bit worried going into this. Thankfully, I absolutely loved it and completed understood why people were applauding it so much. Not only is this a well-made horror film, but it is also a tense thriller and an often amusing social satire about racism. I was slightly concerned that it was going to be really preachy like a lot of films concerning race are, but this was a really intelligent and thought-provoking piece, including some twists that I genuinely wasn't expecting.  It irritates me that a lot of films about race just want to make a giant political statement, forgetting to tell a good story and include interesting characters along the way. I was hooked from beginning to end watching this, and I can only hope Jordan Peele (the director) receives the attention he deserves when the Oscar nominations are announced.
Baby Driver
Another film that I saw more than once at the cinema. I saw this for the first time a few hours after I had completed my final A-level exam, and what a treat it was. It's a shame that the likes of Kevin Spacey will probably taint the legacy of Baby Driver because it is such a great film, both on a technical level and from a character perspective. Ansel Elgort was a joy to watch in the lead role and he's proven that he isn't just a heartthrob for the Young Adult crowd to gush over. The film also has one of the best soundtracks of the year, and the music feels like an integral part of the story due to the various genius ways it is incorporated into the narrative. Edgar Wright is one of my favourite directors working today, constantly creating works that are fast-paced and original. I'll be revisiting this one a number of times.
Dunkirk
Even when he directs a war film that should contain straightforward storytelling, Christopher Nolan likes to challenge his viewers with complicated narrative structures. I normally dislike it when films don't develop their characters whatsoever, as that makes it more difficult to connect with their struggles. However, I loved the lack of dialogue and the phenomenal use of practical effects; literally everything about Dunkirk felt authentic, and it really throws you into the desperate situation that these soldiers were in. Their actions told you everything you need to know about them, and you understood what was running through their minds with just a very small amount of dialogue. My heart was pounding for the majority of it; the impact it has when you view it on a big screen is immense. Nolan is another one of my favourite directors working today and, big shock, it was another film that I had to see twice at the cinema.
mother!
Definitely one of the strangest films I saw this year, but I've certainly not forgotten about it. I had been feeling kind of low for most of September, as I didn't have college to go back to and I had no idea how I was going to make the most out of my year out of education; then this film came along, a picture that really thrilled me and left me thinking about it for days. mother! is definitely the cinematic equivalent of Marmite, in that you either love it or hate it. I'm not even sure if it'll make my top 10 of the year when I make my list in February, but this was such an artistic, bold and risky film, and for me it paid off. It is one giant religious allegory and people may not be fond of the copious amounts of metaphors within the film, but I personally thought it was open to interpretation and I saw it more as a statement on celebrity culture. The fact that it can be interpreted in a number of ways is the beauty of mother!. The third act of the film is unbelievable; it was so claustrophobic, stressful and anxiety-inducing that I started to feel sick watching it. I certainly found it way scarier than most horror films I've seen over the past few years. When it ended, my friend and I just sat in silence for a moment, not really knowing what to say due to how on edge it made us feel. Meanwhile, there were two women sat next to us, and one of them said "Well, that was shit." I knew right then that this was going to be a polarising piece of work. Whether you love it or hate it, mother! is unlike anything you'll see this year.
Blade Runner 2049
It's official: I love Ryan Gosling, and I'm willing to forgive him for The Notebook. It was directed by Denis Villeneuve, the man who has been behind some of my favourites films of the past few years, including Prisoners, Enemy and Arrival. I was worried that this sequel would not live up to the original sci-fi classic, but once I found out that Villeneuve was directing it and that Ryan Gosling and Harrison Ford were set to star in it, I knew we were in good hands. The cinematography by Roger Deakins is flawless; the film contains some of the most interesting images I have seen all year, and it is one of the most visually appealing films ever made. It is really long, running for 2 hours and 40 minutes, but it is so worth it. The performances are wonderfully subtle, the story moves at a slow yet appropriate pace and, like the original Blade Runner, it makes you ponder some existential questions. I really do believe that this film is on par with the original (if not better), and it has such a quiet, peaceful and incredibly poignant final scene. I loved every minute of it and saw it twice; the second time I saw it, my friend and I were the only two people there. While I was saddened that people weren't turning up to see the film, having the screening to ourselves and being able to sit back and escape into this world for a few hours made a perfect evening. I am now just waiting impatiently for the Blu-ray release.