Since this is a film-related blog, making a post about a TV show isn't normally what I do here. But after watching the latest season of one of my favourite TV shows – BoJack Horseman – I just had to talk about it. For those of you unfamiliar with the show, it focuses on the titular character, a self-destructive, anthropomorphic horse who used to be on a successful but undeniably corny 90s sitcom, entitled "Horsin' Around". Ever since that show ended, he has done little of merit and is trying to find his way as he struggles through his depression, his career breakdown and his dysfunctional relationships, notably with his mother Beatrice, his writer friend Diane, his enthusiastic "frenemy" Mr. Peanutbutter and a young man named Todd, who turned up to one of BoJack's parties years ago and never left his apartment.
It is an undeniably bizarre premise for a show, and it will take you some time to get used to the strangeness of this world. Humans and animals interact and even form romantic relationships (Diane and Mr. Peanutbutter are a couple, for example, even though Diane is a human and Mr. Peanutbutter is a dog). Somehow this concept works within the context of the story, and it was a clever choice to make the show a colourful animation because it often heavily contrasts the negative emotions felt by the main characters throughout the show, most notably BoJack himself.
I'll be honest – the first season is just okay. It's got some hilarious moments and shows early signs of all of the complex and thought-provoking storylines to come, but it does feel like it's trying to be like many other animated TV shows for adults. Apart from the idea of humans and animals interacting, there isn't much that makes the show standout. It was only during episode eleven of season one when BoJack Horseman, which I thought was just another daft and crude comedy, genuinely moved and shocked me. It was the moment when BoJack, during a Q&A for Diane, asks her "Do you think it's too late for me?", and Diane struggles to respond to that broad but all important question. It is BoJack's belief that, if Diane tells him he's a good person, he will feel better about himself and the life he is leading. Then, as BoJack waits for the answer, the episode cuts to the credits. It was the first time I had to take a pause before watching the next episode because of how much it surprised me.
Now, four seasons later, BoJack Horseman has become one of the most complex, sophisticated, intelligent and thought-provoking shows I've ever watched – it blows the likes of 13 Reasons Why out of the water in terms of its depiction of mental illness. It's highly ironic that an animated show revolving around talking animals can tackle a difficult subject matter with more maturity and realism than the latter show which, from what I've seen, is just melodramatic and relies too heavily on shock value. The show never lets BoJack off easily; he's selfish, rude to everyone around him and constantly makes serious mistakes that will haunt him for the rest of his life. But this is what makes it so special; his friends and family members don't forgive BoJack for his many errors. As Todd states in episode ten of season three, "You are all the things that are wrong with you". The show does have some sympathy for BoJack – he had a very messed-up childhood, as his parents never showed him any affection – but his mental illness cannot excuse his terrible behaviour.
After laughing many times and getting emotional throughout season five,  I thought I'd write a mini-review of every episode. Hopefully, this will give you an idea of what I thought were the season's highlights and best episodes in an already very strong season of TV. For those of you who have not watched the show though, I implore you to do so. It is, hands down, my favourite Netflix original show.
WARNING: SPOILERS AHEAD!
Episode 1: The Light Bulb Scene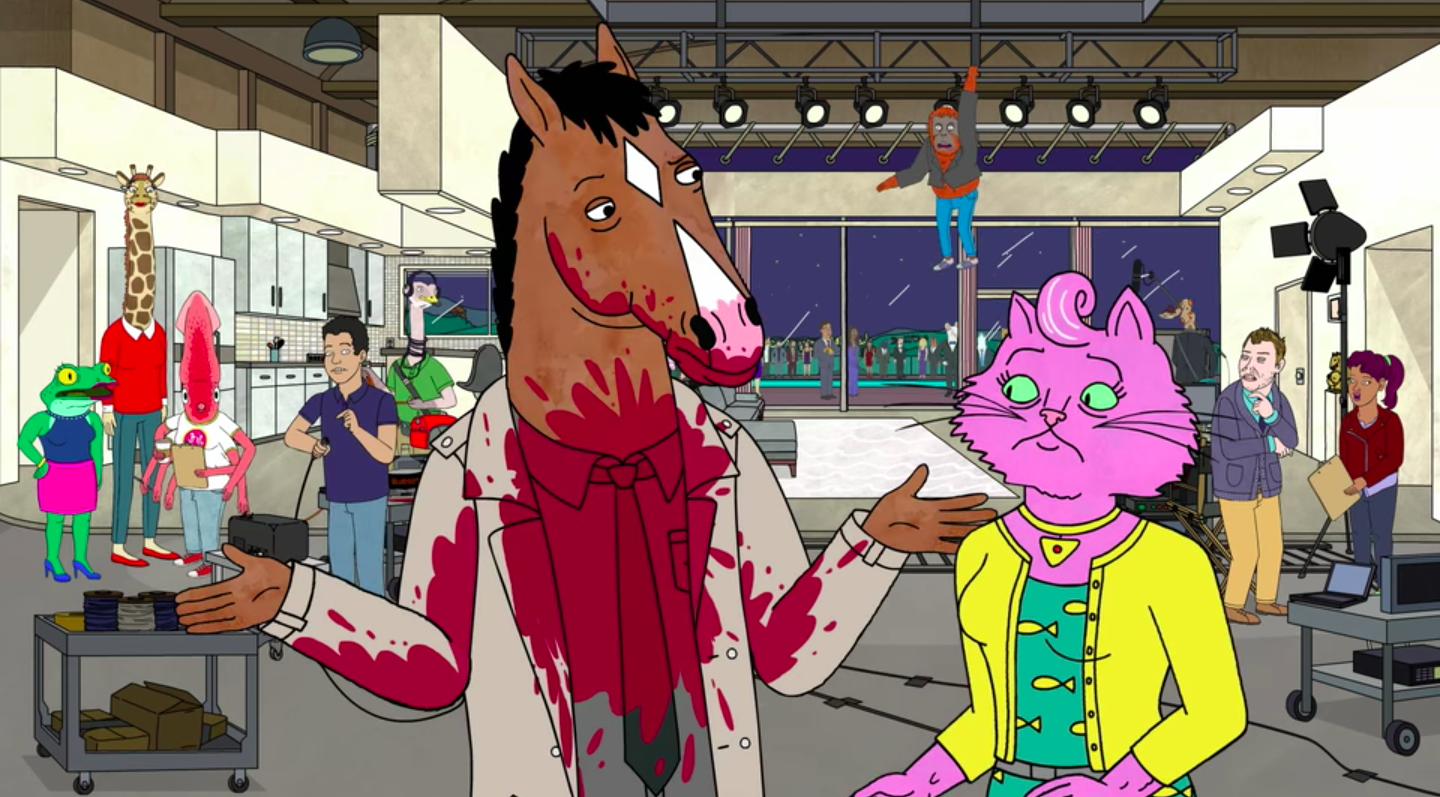 This was probably my least favourite episode of the season, but that in no way means it's bad. The first episode of each season of BoJack Horseman never normally stands out as one of the strongest because it's just a lot of setup for what's about to come, but it still has a lot of funny moments. BoJack has now started a new TV show called "Philbert", an obvious True Detective rip-off which he hopes will finally give him some direction and focus in life. It also sets up Princess Carolyn's main quest this season: to adopt a baby, after the disappointment of trying to have one herself in the past season (Princess Carolyn is my favourite character in the show and all I want is for her to succeed in her quest for happiness). It also introduces Rami Malek as Flip, the stern, clueless and abusive writer for the show who clearly doesn't know how to keep up with the times. He provides some great social commentary for the show and his intense interactions with BoJack proved to be this episode's highlight, uncomfortable as they were.
Rating: 8/10
Episode 2: The Dog Days Are Over
This was one of the pleasant surprises of the season; I find Diane's dynamic with BoJack very interesting, but I didn't think I would enjoy a full episode revolving around her and her struggles. Quite the contrary. Diane takes a trip to Vietnam, a place that is part of her identity, in an attempt to feel closer to people after her divorce from Mr. Peanutbutter. The episode is divided into different topics and is set up like a blog post, a perfect choice for an episode focusing on a writer, and the harsh reality of the episode is that, even though Diane is in a country she is supposed to feel connected to, she has never felt more alone and isolated. It's such a devastating conclusion, but Diane is still hopeful, as she believes that "it's okay" and that you learn how to survive when you're alone. "The Dog Days Are Over" makes you realise that going away for a while won't solve your problems, but it may make you consider just how brave you are for continuing to live, despite your misery. Not the most exciting or experimental episode, but a great one nonetheless.
Rating: 8.5/10
Episode 3: Planned Obsolescence
This was a very weird episode and it does rely too much on crude humour at times, but I think what saves it is the exploration of Todd's asexuality and his relationship with Yolanda, something that I wish could have been explored a little bit more in this season. However, season five was full of different storylines, and Todd isn't the main focus of the show, so it's understandable. What I love about this episode is that Todd and Yolanda come to the realisation that, although they are both asexual – a rare but completely normal thing in society – they just aren't right for each other. Yolanda is very ambitious and proud while Todd, as much as we love him, has been a slacker for the majority of his young adult life. It's great that a TV show is not only including asexual characters, but it also says that they need to find people they are compatible with, as hard as that may be.  The scenes with Yolanda's parents in this episode are both hilarious and off-putting at the same time and, despite the episode's fallbacks, it's nice to see Todd taking responsibility for his own life. It's rather ironic how he is becoming the voice of reason in this show.
Rating: 8/10
Episode 4: BoJack the Feminist
"BoJack the Feminist" was probably one of the funniest episodes of the season, providing this dark, cynical show with some much-needed relief. Princess Carolyn gets a celebrity to join the cast of "Philbert"; the only problem is that this said celebrity has been outed as a misogynist and an abusive man. If you watch the show, you know where this will go; BoJack will have good intentions initially, but will eventually let the positive attention from the public go to his head and will make a stand for the female cause, much to the annoyance of Diane, who knows BoJack only cares about his image and not the issue. This, of course, all backfires when "Philbert" is accused of being sexist, and BoJack struggles to defend himself because he is fully aware that the show is exactly that, pleading with Diane for assistance when he is asked for an interview about it. It may not be one of the most ambitious episodes, but it has many laughs and clever jokes. It also involves Mr. Peanutbutter acting tough in order to get a "bad boy" role, with hilarious results. If for nothing else, this episode is worth watching just to see BoJack where a "Feminism is Bay" t-shirt.
Rating: 8.5/10
Episode 5: The Amelia Earhart Story
Princess Carolyn, my heart continues to break for you. BoJack Horseman excels at backstory episodes, and I was thrilled to see Princess Carolyn – BoJack's manager and former girlfriend – get some limelight. The episode shows that it has been a dream of Princess Carolyn's to be a mother for a very long time, but when she accidentally gets pregnant as a teenager and later suffers a miscarriage, it's a tragic sign of things to come for a character who is now in her 40s. "The Amelia Earhart Story" is full of details that make it a really special and poignant installment in the show; we finally discover the significance of Princess Carolyn's necklace, and find out how difficult it is for her to fly away from her home in North Carolina, as it will mean her mother, who clearly has a lot of issues and insecurities, will have to live on her own. The episode also keeps cutting back to the present day, where Princess Carolyn is desperately attempting to prove herself to a teenage girl that she is the perfect person to adopt her baby. Princess Carolyn is the most hardworking character in BoJack Horseman, and we watch in desperation, hoping that she will finally fulfill her dream of becoming a mother. The season had a strong start, but episode five was when it really started to become something special.
Rating: 9.5/10
Episode 6: Free Churro
Every episode thus far was leading up to this season's first masterpiece: "Free Churro", which is interesting because this is the episode that is the most simplistic. It is separated into two parts; before the opening credits roll, the first part involves a flashback to BoJack's childhood, in which his father verbally abuses him and insists that the world doesn't owe his son anything. BoJack's father and mother clearly had a very dysfunctional relationship, but never has it been more evident than here. When his father picks BoJack up from playing football on a Sunday and tells BoJack that Sundays are his only day of enjoyment, he insists that "you and the black hole that birthed you conspire to ruin it for me". This bitter resentment his father inflicts on both BoJack breaks him as a child, damaging him and giving him severe trust issues.
And what happens after the opening credits roll? BoJack delivers a eulogy at his mother's funeral. That's it. You may fear that this will just be an episode of BoJack complaining, and it kind of is, but it is also the confirmation and acceptance that he will never have a good relationship with his mother which makes this episode so heartbreaking. BoJack really is just talking in circles throughout, but this makes the episode one of the show's most authentic. He awkwardly cracks jokes, keeps pondering what his mother's final words – "I see you" – meant, and occasionally turns to his mother's coffin and asks her questions, knowing she won't answer, which both pleases and hurts him. I am honestly tempted to write a separate piece just about this episode alone, as there is so much going on in it. Just trust me when I say that, if you've ever lost a family member that you resented, you will find this one deeply moving. And the final twist of the episode is just the cherry on top of the cake.
Rating: 10/10
Episode 7: INT. SUB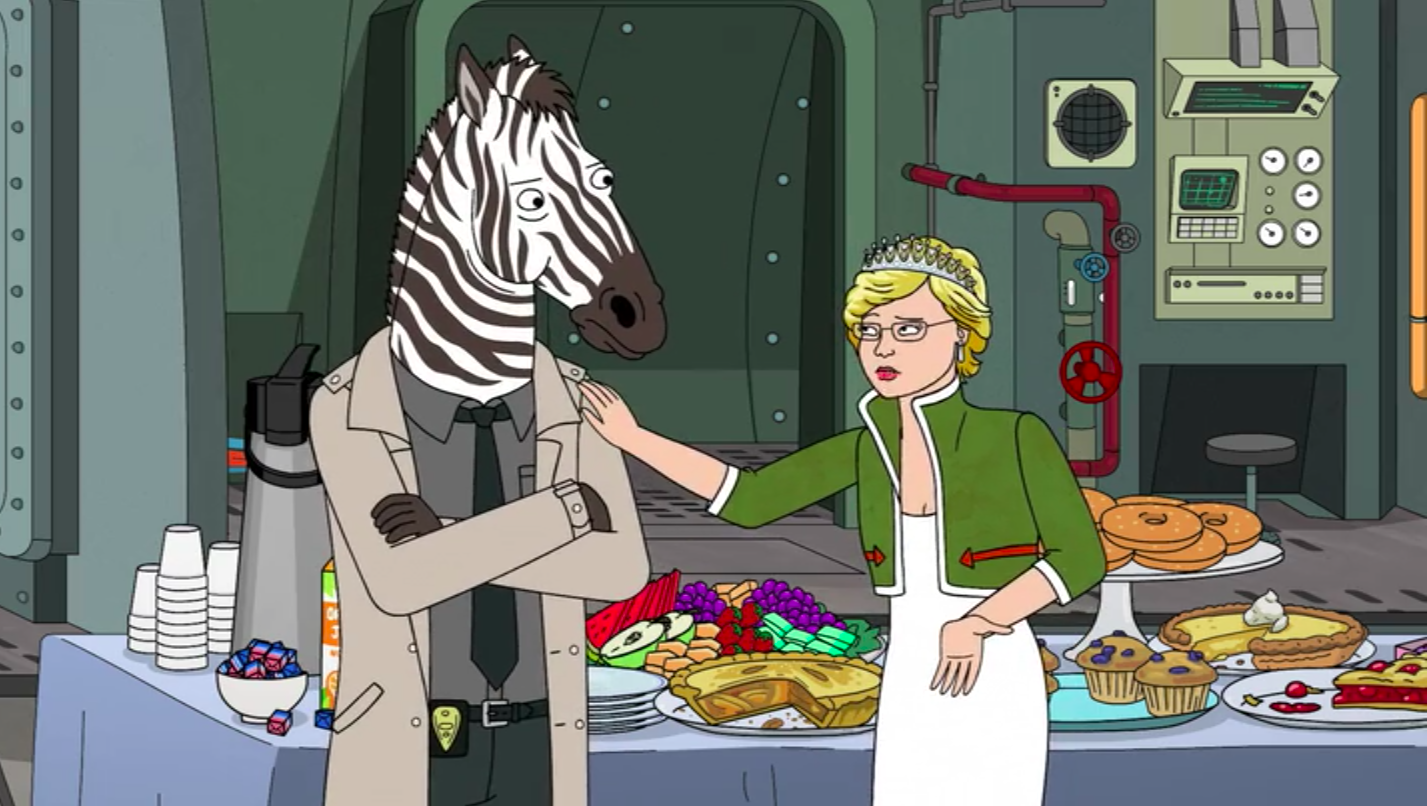 I really didn't know what I was in for with this episode. It starts out with a married lesbian couple, in which one of them – a therapist – explains to her significant other what's been going on between her patients. It is obvious that her clients are BoJack and Diane but, since she is a therapist and has to be confidential, she humorously refers to BoJack as "BoBo the Angsty Zebra" and Diane as "Diana, Princess of Wales" (you'll only laugh at the Diana joke if your sense of humour is as bad as mine). I really love what they did with the animation in this episode; even in the opening credits, BoJack is walking through his apartment as a zebra, not a horse. It's one of the most visually creative episodes of the season and involves a very odd and hilarious dispute between Todd and Princess Carolyn about a missing string cheese (also, did anyone else think that Todd looked like the hand emoji from The Emoji Movie here?!). Season five is, arguably, the season where BoJack and Diane argue the most, but with the help of the very amusing therapist character, the episode is a great mix of humour and conflict.
Rating: 9/10
Episode 8: Mr. Peanutbutter's Boos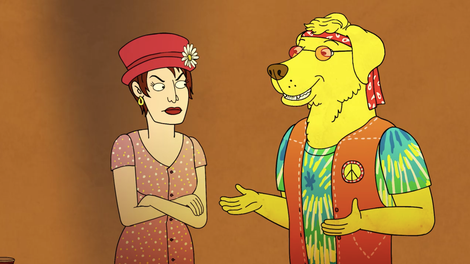 You know something? I'm really glad to see that the show is starting to expose Mr. Peanutbutter's flaws. Due to how much of an energetic and positive presence he is in everyone's life, audiences seem to see Mr. Peanutbutter as a nice guy when, in fact, he can be just as bad as BoJack: he's just better at hiding his own selfish needs and desires. The episode continues the season's creative streak by showing each time Mr. Peanutbutter has arrived at BoJack's Halloween party with a different wife or partner, and these partners are as follows: Katrina, Jessica Biel (one of my favourite running gags in the show), Diane and his current partner: a pug named Pickles. So, of course, the episode keeps jumping to different points in time and makes you realise the same mistake Mr. Peanutbutter has made with all of his romantic partners: he's not on the same level of maturity as them. Diane points out that, eventually, all of the women he dates that are in their early 20s grow up and mature, so he must either learn to mature with them or just give up on the idea of being with someone completely. A harsh message, but a true one. And does he listen? Probably initially, but it isn't long until he makes an error in the series finale, the type of mistake that BoJack would be likely to make in his situation. All I can say is that Pickles deserves better.
Rating: 8.5/10
Episode 9: Ancient History
"Ancient History" seems to be quite an overlooked episode, which surprises me as I believe that this is one of the highlights of season five. I absolutely loved Hollyhock's contribution to the show in season four and was quite upset that she would not be making an appearance this time around, apart from a brief phone call in the first episode. I was delighted to see her back, even if it was just for one episode. What we realise is that Hollyhock is just as messed up as her older brother is, after both of them have come to some brutal conclusions about life. She is still on edge after her last encounter with BoJack's mother, and when she frantically pours BoJack's pills down the sink (medication that he is clearly addicted to at this point), they have to travel to different locations in order to get some new ones for him.
I loved everything about this episode; Hollyhock is so sweet and is clearly one of the few people who cares about BoJack's wellbeing, despite all of the terrible things he's done. But she also makes a lot of mistakes, which angers BoJack, but I also adore the fact that BoJack does everything he can to hide his annoyance towards her in this episode. He normally lets his negative feelings known, unleashing them and inevitably hurting others. But Hollyhock is the closest thing to family he has and clearly regrets letting his frustration get the better of him towards the end of the episode. He drops her off at the airport, saddened to see her go, but before she leaves, she tells BoJack that she loves him, and it is one of the few times we see a genuine smile from BoJack. We, as the audience, are so desperate for him to say those words back to his little sister, but he doesn't manage it. It's devastating, but that smile shows for the first time that BoJack feels like he's loved by a family member. It's a beautiful moment, one of my favourites from the entire season.
Rating: 10/10
Episode 10: Head in the Clouds
The episode was a bit all over the place at times, but it definitely had one of the best openings of the season. BoJack is recovering from a car crash and attends the premiere of "Philbert" with his co-star and girlfriend Gina, another welcome addition to the show. It was quite refreshing to see BoJack let Gina enjoy some of the limelight instead of just hogging it all for himself like he usually does. This is a sign that BoJack actually likes and cares for Gina, but at the same time, viewers will know that this is a bad thing, as BoJack doesn't know how to deal with these emotions and often damages the people he loves. A bitter tension that has been building up between BoJack and Diane culminates in this episode to a very satisfying effect, and there are some very funny moments involving Todd and a sex robot (which is just as bizarre as it sounds). But, behind all of the glamour, a darkness lurks beneath the surface of this episode, as BoJack continues to take too many of his pills. While this episode does have a lot going for it, it is the next episode where BoJack's drug use goes way too far and results in one of the show's very best episodes.
Rating: 8.5/10
Episode 11: The Showstopper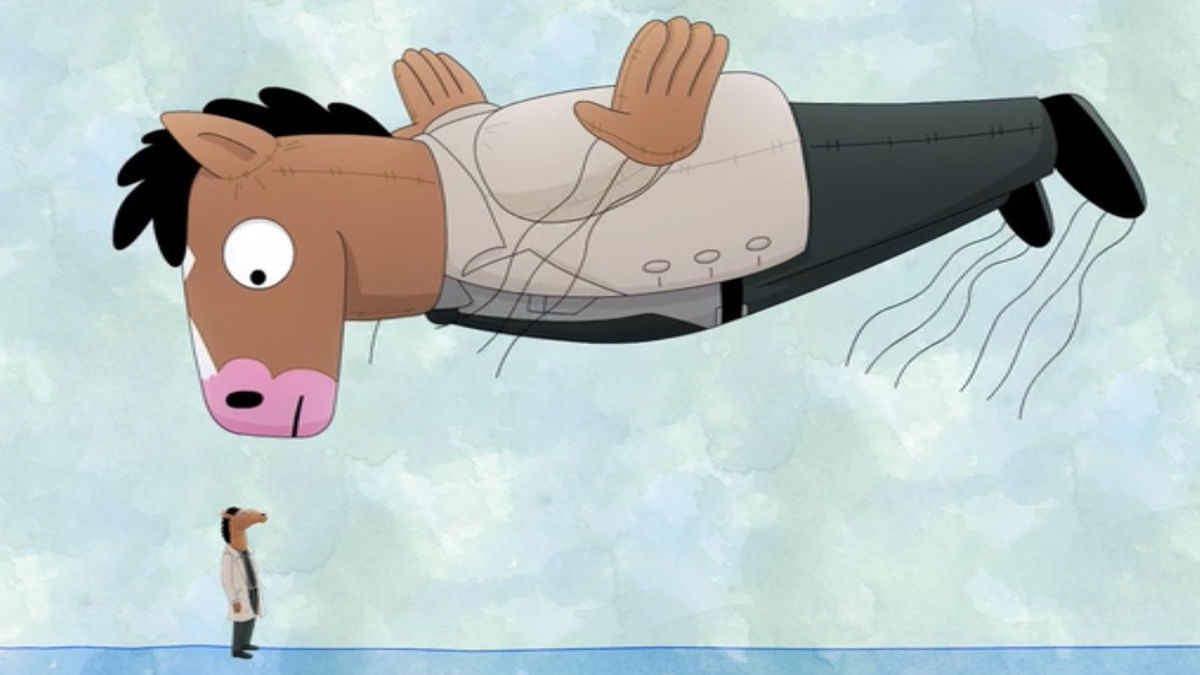 I'm going to be cheesy here and say that, yes, this is a showstopper of an episode indeed. "Free Churro" seems to be most people's favourite episode of the season (understandably so). I thought that would be the case for me until I sat through the penultimate episode. Episode eleven of every season of BoJack Horseman is kind of the equivalent of episode nine of every season of Game of Thrones: it's the episode where everything goes horribly wrong and the writing is at its very best. I really love watching films and TV shows where it is hard to decipher what is reality and what is fiction, and this episode pulls this idea off so well. BoJack's drug addiction is really beginning to take its toll, as he cannot tell the difference between filming "Philbert" and his real life. This is clearly going to pose a problem, but things only get worse when BoJack receives a vague but threatening letter, saying "You did a bad thing and I'm going to tell". Since BoJack's grip on reality has slipped, he takes on the role of Philbert in his real life and does some detective work, trying to piece together who sent him this letter.
This episode contains truly brilliant writing because it just shows how much you can torture yourself with your own brain when you're mentally ill. When you're feeling anxious or depressed, you feel like everyone is out to get you and you become very paranoid as a result. But, as BoJack discovers in one of the shows greatest twists yet, it's all in his head. And the final five minutes of this episode are, at least in my eyes, the darkest five minutes of the entire show, as BoJack loses all sense of control. It was the first time that I was genuinely scared of BoJack and what he has become, and I love the way this moment ties into something he says in the much lighter "BoJack the Feminist". The episode ends with an eerily silent, beautiful yet uncomfortable moment, reminiscent of the final scene from The Truman Show. I feel like I could watch this episode over and over again and still not spot every single detail that is thrown at you. This is easily now in my top five favourite ever episodes of BoJack Horseman. Definitely the season's best episode.
Rating: 10/10
Episode 12: The Stopped Show
Another surprise is thrown at you before the show sadly concludes for another season: there might actually be hope that BoJack will turn his life around. After trying to make sense of what he did at the end of the last episode, BoJack tries to apologise to Gina and tells her he must confess to the world what he did.  However, Gina urges him not to, saying that the truth will take the public's attention away from her acting and they will all see her as a victim, something she has never wanted for herself. So many Hollywood actresses must understand this feeling and it was a much-appreciated touch to the episode. Since BoJack cannot open up, this is another dose of guilt he will have to carry around with him for the rest of his life, and he finally decides to get some help. The episode ends with a story from Diane, who tells BoJack that, although she hates him right now, she's there for him because he's still her best friend and he needs her. BoJack, who appears to be genuinely moved by this, motivates himself to walk through the door and check himself into rehab. And the audience is left wondering what season six will hold for these incredibly damaged characters. This is a beautiful companion piece for "The Showstopper" (even the title of this episode is a spin on the previous episode), and it has left me eager to see what the following season has in store.
Rating: 9.5/10
CONCLUSION
Overall grade: 9/10
Summary: BoJack Horseman season five serves as a reminder that this is the most complex, well-written, funny and heartbreaking show about self-destructive characters out there, with " Free Churro", "Ancient History" and "The Showstopper" being the standout episodes in an overall terrific season.
Episodes Ranked from Best to Worst:
1. The Showstopper (Episode 11)
2. Free Churro (Episode 6)
3. Ancient History (Episode 9)
4. The Stopped Show (Episode 12)
5. The Amelia Earhart Story (Episode 5)
6. INT. SUB (Episode 7)
7. Head in the Clouds (Episode 10)
8. BoJack the Feminist (Episode 4)
9. Mr. Peanutbutter's Boos (Episode 8)
10. The Dogs Days Are Over (Episode 2)
11. Planned Obsolescence (Episode 3)
12. The Light Bulb Scene (Episode 1)